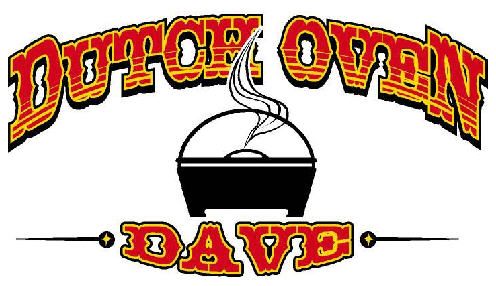 "CASTIRONITIS"
(A hobby, an Obsession, or a Disease)
An essay by Dave Horton
Castironitis, is there such a thing? By all indications there certainly may be just such a thing as Castironitis. Castiron n. A hard, brittle, non malleable iron-carbon alloy, Itis suff. 1. Inflammation or disease of: 2. Excessive preoccupation with, indulgence in, reliance on, or possession of the qualities of: Castironitis.
It all starts with good intentions. You go to Scout Training and learn how to cook in a DO. After all, the Scouts need a trained leader. A 12" shallow here, a 12" deep later on. Then comes the 10" ones. All of a sudden the 14" deep looks wonderful and then you see a 14" shallow. It is starting to get out of hand now. The 8" is exactly the right size for a loaf of bread, so a couple of those are a necessity. You purposely go into the Sportsman's Warehouse, and Galyan's and Gander Mountain and walk slowly down the DO aisles. All of a sudden you find yourself with map in hand figuring the easiest route to Nebraska to visit Cabela's Sporting Goods so you can go into the Camping area and buy the Lodge DO cooking basics video, the lid lifter, and gloves, and other items you will need to cook in your DOs. While there you spot a 16" shallow Lodge DO, there is a lump in your throat, your pulse begins to quicken, sweat breaks out on your forehead. You begin fondling your credit card while looking nervously around to make sure no one is watching your erratic behavior. Things begin to escalate as you realize there is a Cabela's in Dundee, Michigan and then, don't they build one in Hamburg, PA. Now they are only 7 hours away.
The manufacturers are the blame; we are mere pawns in their insidious game. They then come out with the Salt Lake City Olympics Commemorative and then Camp Chef begins their Lewis and Clark specials. You find MACA on the website and WOW!!! Look at that 11" with the Buffalo on the lid, something that you just have to obtain for yourself. Then you stumble over an Ultimate DO and in an effort to curtail the obsession you go to over 10 outlets to try and find the best deal.
You begin to question your own sanity as you try to explain to some of your friends and acquaintances that you are flying to Salt Lake City to participate in a DO Spring Convention and cook in a DOG. They look at you with that look. Thinking, I knew him when he had all of his faculties. He was such a nice man. You box up one of your DOs anyway and check it in at the airport as baggage. The explanations begin anew, this time for disbelieving Airport security types.
The wife is beginning to worry now. She senses that there is something wrong and that it may be out of control. You assure her that everything is all right and then decide to involve her in the quest to share the obsession. She is the real cook in the family anyway. It is the only thing to do, get her involved. Everything is going OK until at a Cookoff on Cape Cod when one of the other participants sees that you are ogling his 5" Lodge and lets it slip that there are more in a small General Store in Northern New Hampshire. The Cookoff over, the truck loaded, the map out and calibrated it is off to Northern New Hampshire. After a 4 hour ride the store is located. Not to bad, 13 hour drive to Cape Cod and another 4 hours to Northern New Hampshire. Breathless you run inside, forgetting that your wife is in the truck with you, and locate the Lodge shelf. OH MY GOSH!!!! THERE THEY ARE, there are three of them. You scan the store suspiciously and grab all three of them and head for the counter. As you arrive at the counter, your wife is just now making it from the truck to the front door to come in, oh yeah, she was with me. I almost forgot.
You begin spending time in Antique store's, head down, walking into the display areas and glancing all over the floor. You know that is where they will be lurking if they are there. That's the way those Spiders found their new home.
Training for the Scouts, 75 of them, and just had to have that 20 quart one to fix the Chili in. And now Lodge announces they are going to cast a Lewis and Clark special. And Camp Chef is going to make a 5", and oh yeah, I remember seeing the oval DO with the Longhorn on the lid at the Spring Convention in Farmington, Utah.
It was bad enough when Sam's in Logan, Utah ran the special on the DO kit. A DO, a Table, gloves, lid lifter, table and DO cover, charcoal starter. I bought 6 of them, just couldn't resist. Negotiating that purchase all the way from Buffalo, NY was interesting. Had to give some of them to our kids to keep my sanity.
Lodge Logic, Camp Chef Pre Seasoned, Turkey Roaster DO. One of the members of our Chapter owns a 22" MACA, hmmmmmmmmmmmmmmmm!
The World Championship DO Cookoff is but 3 months away. You have submitted your recipes and are waiting anxiously for the announcement of who the competitors will be. If picked will you do well, will you let your peers down, will the bread rise, or will it burn? Just to many concerns.
With 5 children and over 60 DOs it is not an equal division. That means an amendment to the Will or, or perish the thought, more purchases of DOs. Let's see, how many times does 5 go into 62, or maybe even 73. Never realized how important math was going to be in the total scheme of things.
I now pass a vehicle going down the road pulling a trailer and mention to my wife, "That guy has a trailer." And it worked. I now have a 14' enclosed Dutch oven trailer.
I now also have numbers 25 and 26 of the IDOS special run 5" Camp Chef DO.
Cooking for a church group of 100 or more this weekend and that may mean another 20 qt DO to the collection.
Where does it all end????
Dave Horton
WNY Chapter
IDOS
Buffalo, NY